Connect with your social network account
Hello Everyone

Its been sometime since I have been around the beretta world. Actually since 2006. My car has been in storage since then. yes 11 years oh my god time flies. Anyways I have just recently pulled it out of the barn 11 yrs later put a battery in it and it started right up and drove it on the trailer to take it home and get it ready to SELL. This is a beretta with a lot of controversy over the years as well as some awards and magazine history. If you know of anyone that is interested in a project to bring this bad boy back to life please let me know,. BEST OFFER. P.S hope you enjoy BFEST !!and still love the car and the style
Last edited by
4gberetta
on Wed Jun 28, 2017 10:40 am, edited 1 time in total.
---
Registered User
Posts: 1111
Joined: Mon Apr 05, 2010 9:10 pm
Has thanked: 2 times
Been thanked: 4 times
Whats the location, and whats the price?
1991 beretta GTZ- 2.3l w41 cams, ported 086 head with a 3 angle valve job, fidanza flywheel with exedy racing clutch, 3.94fdr from and scx, so much more..
---
Registered User
Posts: 751
Joined: Sun Dec 16, 2012 4:38 pm
Has thanked: 4 times
Been thanked: 7 times
I'd also be curious what you're looking to get for it. What part of the country is it in?

Sent from my SM-G900R4 using Tapatalk
1993 Quasar Quad4 GTZ - Project WTF
Previous Berettas:
90 GT,

93 Quasar GTZ

,

93 Garnet GTZ

,

93 Aqua GT
---
Registered User
Posts: 1566
Joined: Fri Aug 14, 2009 12:13 pm
Location: Truro, Nova Scotia. Canada
Has thanked: 7 times
Been thanked: 21 times
these body kits seem to be all the rage with the kids !
---
I always loved this car! Good luck with the sale!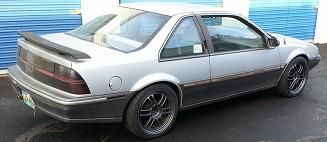 88 Beretta CL
- your average grandma car.. Ls1 swap in progress
77 Celica
- needs an engine swap
96 Geo
- 1.0L, Cam, 3 angle, cam gear, magnaflow, Koni, H&R
86 Subi
- rally car
---
Car is located in Ontario Canada. I am looking for $5000 Canadian.

Body kit yes I know what you mean now that I am 41. back when I built the car it was the style lol... at least I have a purpose for the front bumper as I do have a working inter-cooler haha.
---
---
Who is online
Users browsing this forum: No registered users and 6 guests