Connect with your social network account
Has anyone ever installed a radio from another GM car in they're Beretta before?
I'm trying to figure out what will fit/work. I'm sick of this POS alpine deck I have. It don't read CD's right, and it skips going over bumps.
I'm thinking something out of an 00'-05' Monte Carlo, Impala or Malibu.
Looks like this.
http://allentown.craigslist.org/pts/2697806722.html
Will this fit? Anyone used something different? Will it all hook up right?
---
Registered User
Posts: 885
Joined: Sat Jun 18, 2011 9:48 am
great question. i was thinking the same thing this morning since i absolutely hate my jvc unit.
---
Registered User
Posts: 1828
Joined: Mon Jun 28, 2010 9:02 pm
Location: Wisconsin Rapids, Wisconsin
Contact:
Look up a cd player wiring harness for your car and look at the list of other GM's that use the same plug. That will tell you if it will plug in, then all you gotta do is make sure the radio physically fits!

---
Don't mean to sound like an idiot, but where can I find this information?
---
Registered User
Posts: 1828
Joined: Mon Jun 28, 2010 9:02 pm
Location: Wisconsin Rapids, Wisconsin
Contact:
---
Haha, yeah I've tried a google search. I'm really not finding any useful information. I'll keep looking, if anyone finds something please let me know.
---
Many of the TheftLock system units will not work. Not to mention some of them have "ears" in odd places, such as the radio in my brothers S10, which came from a much newer vehicle. The theftlock was disabled, but he had to cut the dash to fit the unit due to mounting ears on the top corners.

Pretty much any unit from the same year(s) GM should do fine.

And if you're problem is just CD issues, it just may be that you need a good head unit, more than a delco one.

My Sony head unit I bought is rock solid, no skips to date. Love that radio. I used a faceplate adapter, and supported the unit with wood above and below, so it can't flop around. (keep in mind, they are small pieces, so they don't block the radio vents, but they make the radio fit tight to the adapter)

Good luck.
94' Z26 Project - 95' Base Project - Custom LED Light Conversions!
Chosen Proposal Submission & Committee Member for Beretta Fest 2012 in Traverse City Michigan
---
Registered User
Posts: 1828
Joined: Mon Jun 28, 2010 9:02 pm
Location: Wisconsin Rapids, Wisconsin
Contact:
Here's a list of GM radio's that share the same style plug-in as your car. *Note* Any of these models that have factory head units with an EQ or Amp will be different.
1992-2005 Chevrolet Astro
2002 Chevrolet Avalanche
1991-1996 Chevrolet Beretta
1988-1990 Chevrolet Beretta (W/AC)
1998-2001 Chevrolet Blazer
1992-1994 Chevrolet Blazer (Fullsize)
2002 Chevrolet Blazer (Standard Radio)
1992-1997 Chevrolet Blazer S10
1990-2002 Chevrolet Camaro
1991-1996 Chevrolet Caprice
1988-1999 Chevrolet Cavalier
1990 Chevrolet Celebrity
1991-1996 Chevrolet Corsica
1988-1990 Chevrolet Corsica (W/AC)
1990-2004 Chevrolet Corvette
1996-2000 Chevrolet Express VAN (Fullsize)
1994-1996 Chevrolet Impala
1994-1996 Chevrolet Kodiak
1990-2001 Chevrolet Lumina
1990-1996 Chevrolet Lumina VAN
1997-2000 Chevrolet Malibu
1995-1999 Chevrolet Monte Carlo
1988-1994 Chevrolet Pickup (Fullsize)
1995-2002 Chevrolet Pickup CK & Silverado
1990-2001 Chevrolet S-10 Pickup
2002 Chevrolet S-10 Pickup (Standard Radio)
1989-2002 Chevrolet Suburban
1995-2002 Chevrolet Tahoe
1988-1995 Chevrolet VAN (Fullsize)
1997-1999 Chevrolet Venture VAN
1992-1994 GMC Crew CAB Dually
1998-2001 GMC Envoy
1998-2001 GMC Jimmy
1989-1991 GMC Jimmy (Fullsize)
1990-1997 GMC Jimmy (S-15)
2002 GMC Jimmy (Standard Radio)
1988-2002 GMC Pickup Sierra (Fullsize)
1992-2005 GMC Safari VAN
1996-2000 GMC Savana VAN
1992-2001 GMC Sonoma
2002 GMC Sonoma (Standard Radio)
1992-1999 GMC Suburban
1988-1995 GMC VAN (Fullsize)
1992-2002 GMC Yukon
1995-2002 GMC Yukon XL
1988-1996 Buick Century
1988-1990 Buick Electra
1988-1994 Buick LE Sabre
1990-1994 Buick Park Avenue
1990-1991 Buick Reatta
1988-1994 Buick Regal
1986-1995 Buick Riviera
1991-1994 Buick Roadmaster
1989-1995 Buick Skylark
1988-1993 Cadillac Coupe Deville
1990-1995 Cadillac Eldorado
1999-2002 Cadillac Escalade
1990-1996 Cadillac Fleetwood
1990-1991 Cadillac Seville
1992-1995 Oldsmobile Achieva
1991-1997 Oldsmobile Bravada
1988-1991 Oldsmobile Calais
1988-1996 Oldsmobile Ciera
1989-1994 Oldsmobile Cutlass Supreme
1989-1993 Oldsmobile Eighty-Eight Royale
1989-1993 Oldsmobile Ninety-Eight
1990-1999 Oldsmobile Silhouette
1990-1992 Oldsmobile Toronado
1990-1991 Pontiac A6000
1992-1999 Pontiac Bonneville
1990-2002 Pontiac Firebird Trans AM
1990-2000 Pontiac Grand AM
1988-2003 Pontiac Grand Prix
1999 Pontiac Montana
1989-1994 Pontiac Sunbird
1995-1999 Pontiac Sunfire
1990-1999 Pontiac Transport VAN
1991-1999 Saturn ALL Models
---
Thanks for the info above. I want something from a GM car, because the stock radio is much easier to use, and read. (Buttons and such)
I can get a used stock radio cheaper than buying a new aftermarket HU. Whatever I get just has to have a CD player in it. I'll use that list above, and try and find something worth getting. Thanks for the help.
---
Registered User
Posts: 973
Joined: Sun Mar 23, 2008 10:58 pm
Location: canananada
sometimes you just have to inspect the wires and where they are in the connector, and shift a few around i have heard.
4th one's a charm, 5th one is, beginnning to sound like this is an addiction...
95 black z26, '96 White z26 awaiting new life, and 2.5 mazda trucks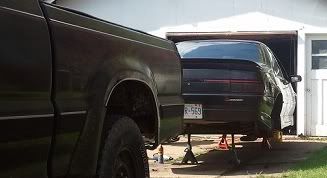 ---
---
Return to "Electronics and Audio"
Who is online
Users browsing this forum: No registered users and 1 guest