Connect with your social network account
-- Here are a few pics of my '96 base model, after 8" of wet snow. She will be getting a few upgrades this year. -- Harlan
---
nice! You have a list of what all youre wanting to do with it?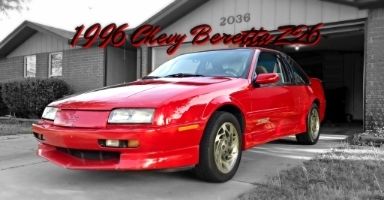 ---
Registered User
Posts: 6386
Joined: Thu Jul 26, 2007 11:36 am
Location: Kansas
Has thanked: 2 times
Been thanked: 11 times
It sure looks as if it spent most of its life in the garage.
keep'em flying!
---
-- Thanks guys. She hasn't had the luxury of a garaged life, and is a daily driver, but is lovingly taken care of. She was a solid rust free car when I bought her 2 years ago. I painted the wheel covers, and body colored the tail panel "red stripe".
-- I will be applying a black over body color 2-tone paint job in the coming weeks, as well as a wheel swap soon. I'd like to do a few performance and body upgrades as well, but am on a limited budget. I will post up before and after pics as I go.
-- I am a GM man, and I do like Berettas, but she may ultimately be sold to get me into a musclecar or hot rod. I figure I should be honest and up front.... I hope I can keep her many more years. This will be my attempt to complete my vision for a good looking Beretta, on the cheap, without making her into some high-end, high-$$ tuner.
-- Thanks again for looking
---
Registered User
Posts: 1121
Joined: Sun Sep 25, 2005 8:48 pm
Location: Stevens Point, WI
Has thanked: 2 times
Been thanked: 4 times
Contact:
Welcome! What upgrades are you planning?
---
Another rust free CO. car? Looks good! Is it a 4cyl, or a 6? If it's a 4cyl, is it a 5 speed?
---
Thanks again folks. She is a 2.2 / 5-speed car.
As far as body mods, I'd like to put on a Z26 / GTZ style front dam or bumper..... at least the air dam. Likely tint the headlights, or put on GTO style covers. I prefer the open grill over the solid ones. I'm also considering Z26 driving light / marker lamp combo. I only recently found out about the "euro" taillights with amber markers. Thinking about those as well. Also considering Z26 lower air dam for rear bumper. I'm planning on keeping her spoiler-less.
My wheels of choice will be 16" Z24 5-spokers from '00 ... which I'm now looking for an affordable set.

I will keep everyone posted on the progress. Thanks again -- Harlan
---
---
Who is online
Users browsing this forum: No registered users and 16 guests