Connect with your social network account
Yeah, he took some writing liberties lol. But he is the guy that is getting paid I guess.
Who did the one on woodys car? I think I remember domestic crew magazine or something years ago.
Thanks! I never thought of it for a convertible setup, that could work! It may not end well in a crash tho.. but in general It could work! Ill have to post that picture on here, I left it out due to the article.
Yes its definitely fun cutting this up, and reshaping everything to your liking!
I do have yahoo still.. Ill have to look into that also. It looks like photo bucket killed all the links.. that will be half a day to fix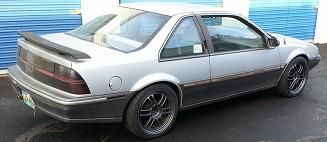 88 Beretta CL
- your average grandma car.. Ls1 swap in progress
77 Celica
- needs an engine swap
96 Geo
- 1.0L, Cam, 3 angle, cam gear, magnaflow, Koni, H&R
86 Subi
- rally car
---
Registered User
Posts: 110
Joined: Tue May 31, 2016 3:54 pm
Has thanked: 12 times
Been thanked: 1 time
Freakin sux the photos are wiped! Im glad I caught up on your build yesterday while they were still there. Digging it, awesome work.
I enjoyed the article as well despite the errors already mentioned. The timeline is cool, and on a side note I found it interesting that you are an electrician. I'm an electronic tech.
---
Registered User
Posts: 665
Joined: Thu Apr 26, 2001 3:11 pm
Location: Charlotte, NC
Has thanked: 1 time
Been thanked: 1 time
Contact:
Alex - Flickr works pretty well - the photo sharing is kind of jankey - but once you figure it out - it works just fine.
2005 Chevrolet Corvette Z51
2005 GMC Sierra 2500HD
2014 Chevy SS
---
Thanks! Im just an apprentice, not sure If i can carry the electrician title just yet. Few more years! Electrical industry seems like a good line of work so far tho (Im 2 years in).

The pictures seem to be working again, but not sure how long! Ill definitely check it out when I get a chance.

Did a little more on the car, started cutting and prepping the 2x4 box tube. Moved my jack stands out of the way for the frame and releveled the car. I think I can have the frame done in 3 full days of work. Just finding those 3 days is the problem! Not too much longer I hope.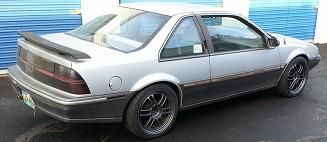 88 Beretta CL
- your average grandma car.. Ls1 swap in progress
77 Celica
- needs an engine swap
96 Geo
- 1.0L, Cam, 3 angle, cam gear, magnaflow, Koni, H&R
86 Subi
- rally car
---
---
Who is online
Users browsing this forum: No registered users and 3 guests